Recipe: Yummy Roasted Harrissa veggies with halloumi and chickpeas
Recipe: Yummy Roasted Harrissa veggies with halloumi and chickpeas
Recipe: Yummy Roasted Harrissa veggies with halloumi and chickpeas
Recipe: Yummy Roasted Harrissa veggies with halloumi and chickpeas
Roasted Harrissa veggies with halloumi and chickpeas. Crispy chickpeas, creamy sweet potato, and perfectly charred cauliflower, all tossed in a garlicky harissa paste and finished with a drizzle of cool tahini. Veggies and whole garlic cloves are roasted until caramelized with a deep nutty flavor. Chickpeas are tossed in a simple.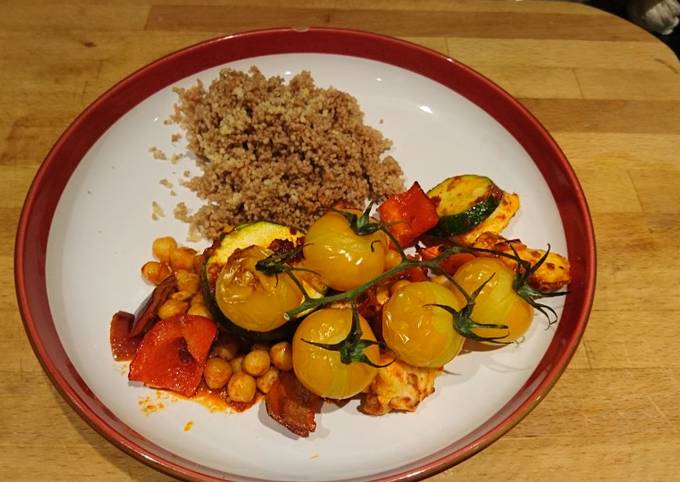 When the timer goes, remove the sheet pan from the oven and sprinkle the veggies with a little flaky salt. Drizzle or dollop on your yogurt tahini sauce. Stir parsley pesto through brown rice and top with onions, peppers, courgettes and chunks of halloumi cheese for a filling vegetarian dinner. You can have Roasted Harrissa veggies with halloumi and chickpeas using 7 ingredients and 5 steps. Here is how you achieve it.
Ingredients of Roasted Harrissa veggies with halloumi and chickpeas
You need 1 of red pepper.
You need 1 of yellow pepper.
Prepare 1 of courgette.
Prepare 1 of red onion.
You need 1 Pack of halloumi.
You need 3 tbsp of Harrissa (2tbsp if you don't want it to spicy).
It's 1 Punnet of vine tomatoes.
Harissa Roasted Cauliflower and Chickpea Salad with Lemon-Tahini Dressing will become a go-to entree or side dish. Vegan, gluten free, and Enjoy this vegetarian recipe for a side dish or entree for a guaranteed crowd pleaser. Why You'll Love This Roasted Cauliflower and Chickpea Salad Halloumi can stand up to a BBQ really well. It's best to rub the outside of the halloumi with some oil and to cook it Sage and halloumi roasted broccoli with caramelised leeks.
Roasted Harrissa veggies with halloumi and chickpeas instructions
Pre heat the oven to 180 (fan) / 200..
Wash and chop the peppers, courgette and onion. Dice the halloumi. Rinse the chickpeas. Add to a roasting tin.
Mix in the Harrissa and add a pinch of salt. Roast for 15 minutes..
Mix and add the vine tomatoes and return to the oven for another 5 minutes. Or until the tomatoes are starting to crack..
Serve with some cous cous!.
These vegetarian sliders made from chickpeas, beetroot and halloumi work great as snacks, starters or even a main. Roast summer veg with lemony chickpeas and golden brown halloumi served over herby rice. This makes a fantastic vegetarian main course. I don't know about you, but I sometimes struggle to find a vegetarian meal that doesn't leave me feeling I've been short changed. Top with roasted vegetables and cilantro.
via Blogger https://ift.tt/3u5NYHu
May 23, 2021 at 01:57AM
via Blogger https://ift.tt/2RDqTPb
May 23, 2021 at 02:11AM
via Blogger https://ift.tt/3ugCS2m
May 23, 2021 at 05:11AM