Recipe: Delicious Spicy gluten free beetroot and chickpea burgers
Spicy gluten free beetroot and chickpea burgers. Make them on the BBQ or fry them in a pan for the perfect summertime dinner. You can imagine how happy I was to find tonights spicy chickpea veggie burgers sticking together throughout cooking and eating. These days I longed for a burger, a healthy version of a burger.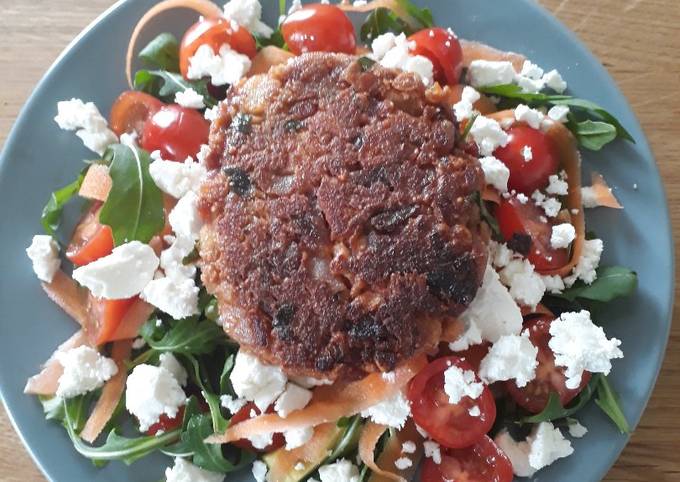 Delicious and healthy beetroot and chickpea burger. The following recipe is truly addictive. The patty is firm on the outside and tender on the inside, exactly what a veggie burger should be. You can cook Spicy gluten free beetroot and chickpea burgers using 14 ingredients and 9 steps. Here is how you cook that.
Ingredients of Spicy gluten free beetroot and chickpea burgers
It's 2 tablespoons of sesame oil or coconut oil.
It's 1 of red onion, finely chopped.
You need 2 of garlic cloves, crushed.
You need half of a green chilli, de-seeded and finely chopped.
You need 1 of large carrot, grated.
Prepare 1 of large fresh beetroot (or 2 small), grated or finely shredded.
You need Half of a courgette.
It's 200 g of chickpeas (half a tin, drained).
You need 50 g of oats.
Prepare 1 of egg yolk 1.
It's 1 of heaped teaspoon ground cumin.
You need 2 of spring onions, finely chopped.
Prepare handful of fresh spinach, finely sliced.
Prepare of plenty of salt (approx. half a teaspoon).
Beetroot and chickpea burger is smoky, hearty, savoury. Delicious gluten, dairy and meat free burgers made with a gorgeous blend of beetroot, chickpeas and spices. This veggie chickpea burger recipe is a great vegetarian alternative to beef burgers and hot dogs at your summer BBQ! Crispy not mushy vegetarian Chickpea and Beetroot Burgers served with some fresh made Whipped Feta that perfectly balances out the beetroot.
Spicy gluten free beetroot and chickpea burgers instructions
Heat 1 tablespoon of the oil in a frying pan and gently fry off the onions, garlic and chilli for 5 minutes..
Add the grated veg and fry for a further 3-4 minutes..
Whilst the veg are cooking, put the oats in the food processor and blitz for a 10-20 seconds. Add the chickpeas, sesame oil, cumin and egg yolk and blitz to combine well. It's fine if some of the chickpeas are still whole - these burgers work well with a mix of blended and whole chickpeas..
Put the chickpea mix into a large bowl and stir in the spring onions and spinach. Fold in the veg mix from the pan (drain out any excess moisture before combining) and add plenty of salt..
Using your hands, make 4 burgers (not too thick as you want them to cook through quite quickly).
Depending on the time you have either refrigerate the burgers for at least 30 minutes (you can refrigerate overnight if you're too organised!). Alternatively, if, like me, you cant wait too long for your lunch, pop them on a plate into the freezer for 15- 20 minutes. The burgers should be cool and firm..
Heat a table spoon of sesame oil in a non-stick pan and carefully fry one side for 3-4 minutes. Gently turn the burgers with a spatula and cook the other side dor 3-4 minutes with a lid on..
Remove the lid and cook for a further 2 minutes on both sides or until the burgers are fully cooked in the middle..
Serve the burgers in a brioche bun with lettuce and hummus or with a fresh rainbow salad..
The thing I love most about veggie burgers is all the different experimenting you can do. So many different kind of vegetables, beans, flours, nuts/seeds. Put chickpeas, onion, garlic, eggs, oats, feta and spices in a food processor and whiz to a smooth paste. Tip into a large bowl and stir through beetroot until well combined. These herbed chickpea burgers are a delicious vegan and gluten free veggie burger.