Recipe: Appetizing Vegetable Madras
Vegetable Madras.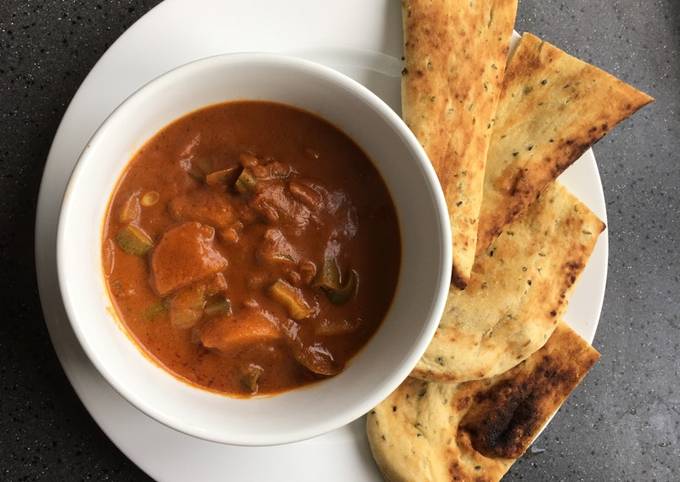 You can cook Vegetable Madras using 8 ingredients and 5 steps. Here is how you cook it.
Ingredients of Vegetable Madras
You need 2 of white onions.
You need 2 of large potatoes.
Prepare 2 of courgettes.
You need 2 of mixed peppers.
Prepare 400 g of runner beans.
You need 400 ml of coconut cream.
It's 750 ml of passata.
You need 6 tbsp of curry paste.
Vegetable Madras instructions
Preheat the oven to 200 degrees. Dice the potatoes (peeled or unpeeled, as you prefer) into relatively small cubes and add to a roasting pan. Take two tablespoons of curry paste, add a large glug of vegetable oil and mix in with the potatoes, ensuring they are covered." In the mixture. Add the potatoes to the oven for approximately 30 mins, rotating every 10 mins.
Chop the onions finely and add to a pan with a splash of vegetable oil and cook over a medium heat. Once the onions are softened, add the remainder of your curry paste to the pan, mixing in with the onions and cook for a couple of minutes like this..
Add the passata and coconut cream to the pan (in that order), stirring gently until you have a consistent colour and reduce the heat of the pan so the sauce is very gently and slowly bubbling.
Chop the beans, courgettes and peppers into similar sized pieces and add to the pan, they will need to cook for around 15 minutes in the sauce before they are softened. After 5 minutes of cooking the other vegetables, remove the potatoes from the oven and add to the curry sauce.
I prefer to serve curry with bread only but this recipe works well with rice or others.