Fried brussel sprouts with carrots and zucchini. Maple Roasted Brussel Sprout Quinoa Salad, Zucchini, Brussel Sprout & Halloumi Fritters, Loaded Brussel Sprout & Tomato Pasta Bake With Chicken & Sausage Fried brussel sprouts with carrots and zucchini brussel sprouts. Heat the pan with the olive oil and shallots, and sauté over a medium-low heat until the shallots are wilted. Turn up the heat and toss in the sprouts.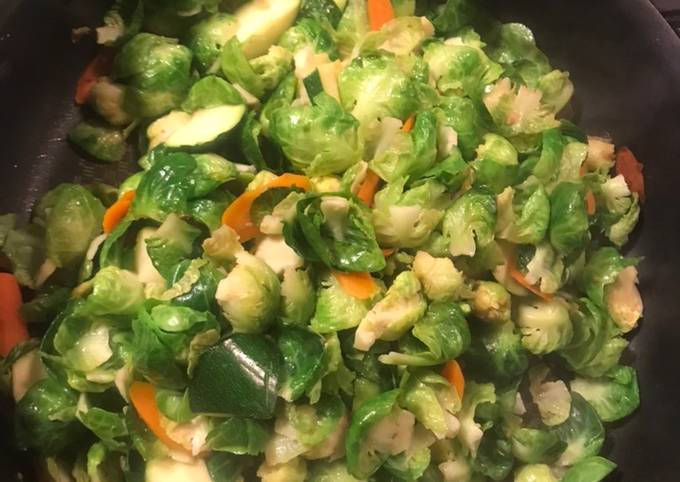 This veggie side dish comes together very quickly. Then add the brussels sprouts and carrots with a little salt and pepper. The vegetables will just be slightly brown. You can cook Fried brussel sprouts with carrots and zucchini using 2 ingredients and 2 steps. Here is how you achieve it.
Ingredients of Fried brussel sprouts with carrots and zucchini
Prepare 300 g of brussel sprouts. Peel off the leaves or cut in half.
It's 1 of medium sliced carrot; 1 small sliced zucchini; 3 cloves of garlic.
Preparation Melt butter in a large saute pan on medium high. Place Brussels sprouts, carrots and garlic in pan, season with salt and freshly ground black pepper. I've been making brussel sprouts like this for decades only I never add sugar. I caramelize the onions, so that adds enough sweetness.
Fried brussel sprouts with carrots and zucchini step by step
Put 1 table spoon vegi oil in the pot. While hot, put garlic into the pot. Put carrot to cook until it gets tender, put brussel sprouts and zucchini into the pot. Add a teaspoon salt (taste to the flavor you like).



If you like crunchy carrot, you can fry them altogether. You can add some water when cook..
If the sprouts are large, I will add a bit of chicken broth and steam them in order to softened them quicker and I toss the bacon in for the last minute or so to blend the flavors. Roast vegetables: Arrange the carrots and brussels sprouts on a baking sheet and drizzle with olive oil, tossing the vegetables to completely cover with oil and sprinkle with sliced garlic, salt, and pepper. In a big bowl add the sliced zucchinis and carrots. Pour the olive oil over the sliced vegetables, sprinkle with all the herbs and spices. Season to taste with salt and pepper, then toss until everything is well coated.