Recipe: Appetizing Quick Easy Chicken Sandwhich
Quick Easy Chicken Sandwhich. These sandwiches are great when you want a quick supper, but not something from the freezer. They remind me of an expensive sandwich from an upscale deli. Mix flour, paprika, and garlic together in a shallow bowl.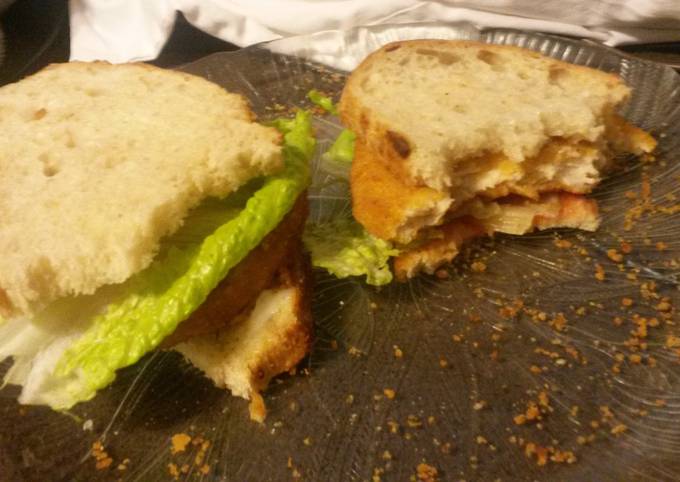 Dilly Chicken Sandwiches A creamy lemon-dill spread adds summery flavor to tender chicken served between slices of grilled French bread with slices of lettuce and tomato. Serve it for lunch, or for a light and breezy dinner on the patio. —Orien Major, Hinton, Alberta Perfect for picnics, ideal at celebrations and just-right for any quick-fix meal, this chicken salad sandwich recipe is a balanced combination of hearty meat, crunchy celery and onion and creamy mayonnaise. If you have leftover cooked chicken from another meal, turn it into easy chicken salad. You can cook Quick Easy Chicken Sandwhich using 6 ingredients and 6 steps. Here is how you cook that.
Ingredients of Quick Easy Chicken Sandwhich
It's 1 of Costco frozen Chicken Patties(recommended) but any chicken will do.
It's 1 of sourdough bread.
Prepare 1 of lettuce not shredded.
Prepare 1 of mayonnaise.
It's 1 of ketchup.
Prepare 1 of salt/pepper *optional.
Cut any large chicken thighs in half to make them more sandwich-sized. Pour in the BBQ sauce and stir to combine until all of the chicken is well coated. Portion onto the buns and top with your favorite toppings. Remove cooked pieces and drain on paper towels.
Quick Easy Chicken Sandwhich step by step
Microwave chicken patties 2 minutes then flip and do another two.
Toast the bread.
Tear lettuce.
Spread ketchup on one piece of bread and mayonnaise on the other.
Put them in order of bread with mayonnaise, lettuce, chicken, bread with ketchup. Or any way you want :P.
Taste it, add salt and or pepper if needed (I needed it).
To assemble crispy chicken sandwiches, toast the sesame seed buns in the broiler after brushing them with butter. In a wide bowl, combine flour, remaining salt, pepper, garlic powder, smoked paprika, and canola oil. Remove the chicken from the buttermilk marinade and dip each piece in the flour mixture until well coated. Dip chicken in flour to coat both sides; shake off excess. Dip in egg, then in crumb mixture.